As the RAS reopens for 2015 we would like to wish our readers a happy and successful 2015. We are excited about forthcoming events at the Society and also about our ongoing work in the library and archives to make them increasingly more accessible.

The first lecture of 2015 takes place on Thursday 15th January when Dr. Santanu Das of King's College, London, will speak on British India and the First World War: Words, Objects and Images.

Dr. Das' profile for King's College reveals his extensive research into World War One literature and culture: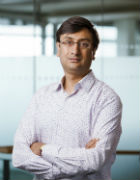 "I work on early twentieth-century literature and culture, with a focus on the First World War. My first book Touch and Intimacy in First World War Literature (Cambridge, 2006), based on my doctoral thesis, recovered and analysed the sensuous world of the trenches and the war hospitals, and explored the relation between war experience, art and emotion. I have edited Race, Empire and First World War Writing (Cambridge, 2011) and The Cambridge Companion to the Poetry of the First World War (2013). I have strong interests in early twentieth-century British literature; in theories of body, gender, sexuality and affect; and in the relationship between modernism and colonial/postcolonial cultures, with a particular focus on South Asia. I am very interested in poetry and in 2010, I gave the British Academy Chatterton lecture on the poetry of D.H. Lawrence. I have published in journals such as Modernism/Modernity, Textual Practice and Essays in Criticism.
For the last several years, I have been working on the cultural and literary history of South Asia and the First World War. This has involved extensive archival work, in India as well as across Europe. Given that many of the actual participants were non-literate, it forced me to go beyond the strictly literary and delve into the material, visual and oral legacies of the war. The work has now developed into three inter-related projects: a monograph titled India, Empire and the First World War: Words, Objects, Images and Songs, to be published by Cambridge University Press; a visual source-book Indians on the Western Front / L'Inde dans la Grande Guerre, les Cipayes sur le front de l'ouest (commissioned jointly by Gallimard and the French Ministry of Defence) which came out in November 2014; and a series of academic articles. In 2014, I also presented a series on 'India and the First World War' for BBC Radio 4 and wrote a few short pieces on the subject for the British Library website.
From 2013-16, I am leading a major collaborative research project on 'Cultural Exchange in a Time of Global Conflict: Colonials, Neutrals and Belligerents in the First World War' (CEGC) funded by Humanities in the European Research Area (HERA), with partners from academic and cultural institutions from across Europe (http://www.cegcproject.eu)." http://www.kcl.ac.uk/artshums/depts/english/people/academic/das.aspx
We look forward to hearing the lecture. It starts at 6pm and will be followed by a drinks reception.
And while we are on a literary theme, during the Christmas period, I drafted another poem about my early experiences with the RAS Archive:
RAS Archives 19th Century
First box, pleasingly, is archival quality, papers placed in Melinex sleeves and labelled:
Journal of the Mission Team from the Supreme Government of India to the Court of Siam
Notes on the Chinese Game of Chess
An Effort to Identify the Artist who drew the Picture of Jehangir Court, Beveridge, 1915
A letter from Brian H. Hodgson concerning Buddhist works, Nepal, 1835
The Peninsula of India showing Marches of the British Armies, 1790-1792, drawn chiefly from Major Connell's map, presented by Colonel Doyle – in need of conservation
Next box, more confusion – the Society's Post Book, 1984-1987, housed with a map of Formosa, postcard from Shanghai, 1930s correspondence relating to Asian suit of armour.
knowing contents: choose to list
This poem is in the form of a haibun, a literary form originating in Japan, combining prose and haiku, first used by the 17th century poet Matsuo Basho. A haibun may record a scene, or a special moment, in a highly descriptive and objective manner or may occupy a wholly fictional or dream-like space.The accompanying haiku may have a direct or subtle relationship with the prose and encompass or hint at the gist of what is recorded in the prose sections. (http://en.wikipedia.org/wiki/Haibun). For more information on haibun there is the Journal of Contemporary Haibun Online at http://contemporaryhaibunonline.com/